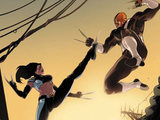 Marvel Comics has unveiled Rob Williams as the new writer on Daken: Dark Wolverine.

According to the publisher, the scribe will take the reins on the title from issue #9.1 in May.

The special edition of the comic will be released as part of Marvel's 'Point One' initiative to draw in new readers. Its storyline sees crime boss Daken attempt to take over Los Angeles.

"I'm so excited to have Rob Williams coming on board Dark Wolverine," said editor Jeanine Schafer. "His sharp ear and sardonic wit, combined with his knack for twisty, noir-inspired plots, are the perfect combo for Daken to take full advantage of.

"We're ramping up for a blow-out year - Daken has his sights set on a new status as a true kingpin, pulling all the strings, and stopping at nothing to get what he wants. Lots of gorgeous men and women, double-crosses and the constant threat of going over the edge. What more could you ask for in a great noir?"

Daken: Dark Wolverine arrives in stores on May 27.
*Digital Spy
Keywords - Wolverine Marvel Hugh Jackman X-Men