Frank Miller, Mark Hamill and more remember actor whose Batman portrayal "exemplified heroism"
Rolling Stone
Ben Affleck, who currently portrays Batman in films, paid tribute to the man who first brought Bruce Wayne to the screen following Adam West's death at the age of 88.
"Adam West exemplified heroism," Affleck said on Twitter. "Kind, funny and an all around great guy. Thank you for showing us all how it's done."
West was an early supporter of Affleck's Batman casting after the Argo star took over the role following Christian Bale's Dark Knight tenure. "Ben, you're going to be very good," West told Affleck. "Shave the beard, make that costume work for you."
Val Kilmer, another big screen "Caped Crusader" in Batman Forever, wrote, "Ah dear Adam West. He was always so kind when we met. A real gent. Once when I was a kid we found ourselves in front the Batmobile. I got in."
West's Batman cohort Burt Ward, who played Robin on the original TV series, told the Hollywood Reporter, "I am devastated at the loss of one of my very dearest friends. Adam and I had a special friendship for more than 50 years. We shared some of the most fun times of our lives together; our families have deep love and respect for each other. This is a terribly unexpected loss of my lifelong friend, I will forever miss him. There are several fine actors who have portrayed Batman in films, in my eyes there was only one real Batman and that is and always will be Adam West; He was truly the Bright Knight."
DC Comics also remembered the man who helped turned their comic book superhero into a multi-front franchise.
"Like many others, Adam West as Batman was part of my childhood," said DC Entertainment president Geoff Johns said in a statement. "Watching those reruns every day after school, Batman made reading comics that much more real for me growing up."
DC publisher Jim Lee added, "Batman's popularity will be forever linked with Adam West. He brought joy to legions of fans around the world and was the gateway for many of them to discover or in some cases rediscover their love of comic books. He'll be deeply missed."
Comic book legend Frank Miller, whose graphic novels reimagined the classic Batman as the grittier Dark Knight, tweeted, "Adam West kept Batman alive and thrilled my generation. It's a sad day."
Over the past decade, West has played a caricatured version of himself as Mayor West on Family Guy. On Twitter, that cartoon's creator Seth Macfarlane penned a remembrance to the actor.
"Family Guy has lost its mayor, and I have lost a friend," MacFarlane said in a statement. "Adam West was a joy to rk with, and the kind of guy you always wanted to be around. His positivity, good nature, and sense of fun were undeniable, and it was always a big jolt of the best kind of energy when he walked in to record the show. He knew comedy, and he knew humanity."
MacFarlane added, "I am beyond fortunate to have had the privilege of working with him, and he will be profoundly missed by all of us. Thank you from the bottom of my heart for all that you have given, Mr. Mayor. You're irreplaceable."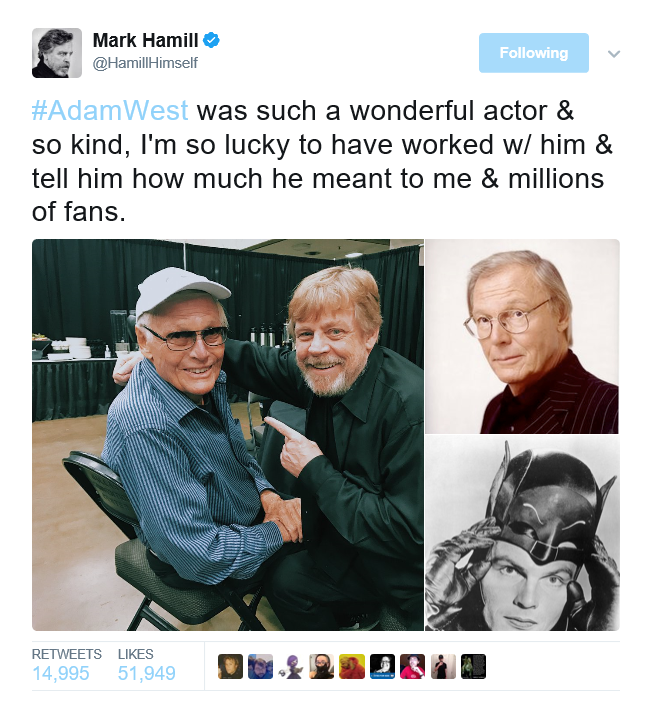 Star Wars actor Mark Hamill, who along with West was a regular on the comic convention circuit, said of the actor, "Adam West was such a wonderful actor & so kind, I'm so lucky to have worked w/ him & tell him how much he meant to me & millions of fans."