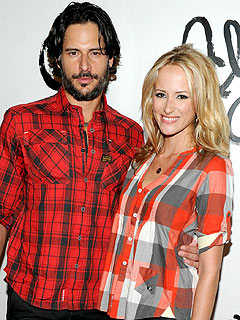 By Dahvi Shira
For Joe Manganiello's wedding dinner, don't be surprised if the steak is cooked rare – very rare.

"The cast will be invited to the wedding," the True Blood star told PEOPLE at the PGA Awards in Beverly Hills on Saturday night. "I love them. They're like my family."

And when will these vampires and werewolves get to see him tie the knot with model/actress
fiancée
Audra Marie?

"We're close to settling on a date and a location," the actor says. "Once we get that locked in, the rest will kind of snowball."

Credit the hit HBO show for making the wedding possible. After quickly going from guest star on True Blood to recently landing the role permanently, Manganiello, 34, wanted to keep his momentum going.

"The first thing I did with my first check as a season regular is get together with my friend who is a jewelry designer and we co-designed an engagement ring," he says. "And then my now- fiancée and I went on our trip to Italy and got engaged."

And while the October engagement broke the hearts of legions of female fans of his sexy werewolf, Alcide Herveaux, Manganiello couldn't be happier.

"She's been amazing," he gushed. "She's been really incredible, and she's been by my side and been supportive through the entire thing. There have been moments that have been really hard for me in my career that every actor goes through, and she's the one who is like, 'Come on, lets keep going.' She really is that cheerleader for me."